Miles Without Stiles 19: Dalegarth to St Catherine's Church, Eskdale
Mainly a loop route for all with two spur path options for many. This route links the Ravenglass and Eskdale Railway Station to Boot, with resting places by St. Catherine's Church and the River Esk. OS Explorer Map OL6.
Route for all. A circular walk. 2.5km distance.
Route
Leave Dalegarth station and turn right on to the main road. Take care as this can be busy in summer and at weekends. Follow the road for just over 250 metres until you reach a side road to your left, opposite the old school, and the war memorial. Just over 100 metres up this road, a gate on the left leads to a walled track known as "Parson's Passage". *
Pass through the gate and follow the path which winds alongside the river
Esk. After just over 150 metres, at the crossroads, the right turn takes you down to St. Catherine's Church (12th Century), and the River Esk; a good spot to linger, sit on the bench and take in the woodland and riverside setting.
To complete the loop, head back up the stone track, with St. Catherine's church on your left. As you round the bend to the right, by Church House, you will notice a straight, walled track called "The Tramway". This is a lovely 400 metre there-and-back spur to the

loop which takes in the route of an old railway track from Eskdale's mining era. At the bottom of the Tramway, there is an option "for many" to continue along a short, narrow stretch to the Girder Bridge (built on two railway girders).
To return to Dalegarth Station, continue on the main stone track past Esk View Farm on the right, until it becomes a smooth tarmac road. Take care as you reach the Brookhouse Inn and the main road once more. Turn left onto the main road and after just over 200 metres you will see Dalegarth station on the right.
* A short distance up this road you come to Trough House Bridge. This arched stone bridge crosses a dark chasm gouged out by the River Esk. On the other side of the bridge, a gate on the left leads to a delightful new spur path 'for many', called "Anne's Walk", in memory of Anne Stanley of Dalegarth Hall.
Map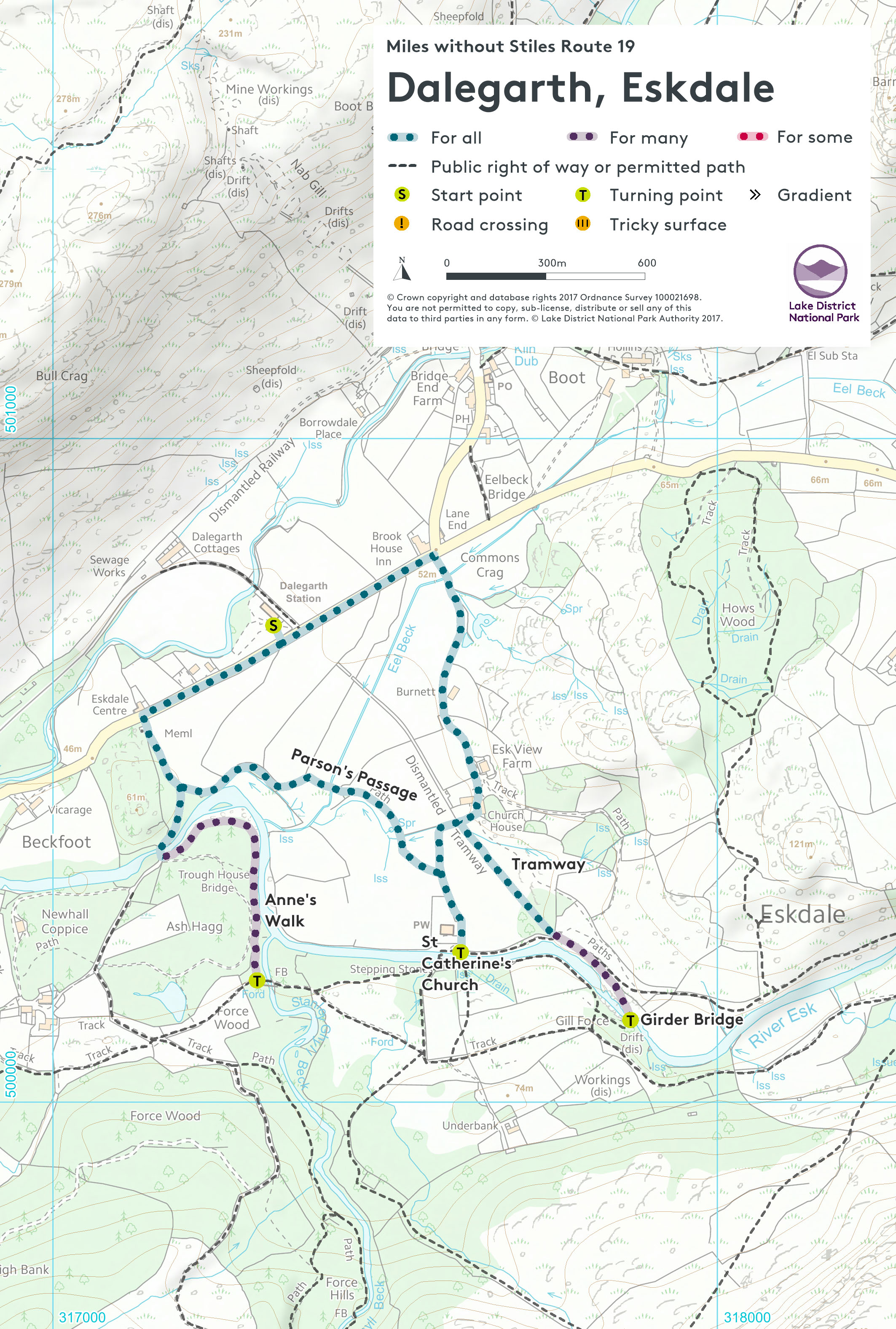 Download the route map for Miles Without Stiles Miles Without Stiles 19: Dalegarth to St Catherine's Church, Eskdale
Details
Start point:
Dalegarth station.
Postcode: CA19 1TG
Grid reference: NY 173007
W3W: ///surgical.jogging.encroach
Turning point:
Grid reference: NY 176002
W3W: ///herbs.happen.ooze
Facilities:
None on route, but car parking, toilets and café at Dalegarth station, plus pubs in Boot.
Getting there:
Train: Ravenglass and Eskdale Railway can accommodate wheelchair users. Details on www.ravenglass-railway.co.uk
Car: turn right into Dunnerdale before Duddon Bridge and follow signs for Eskdale Green over Birker Fell. From the coast, take the A595 north from Ravenglass and turn right on a minor road signposted Santon Bridge and Eskdale. Dalegarth station is 10 km up the valley.