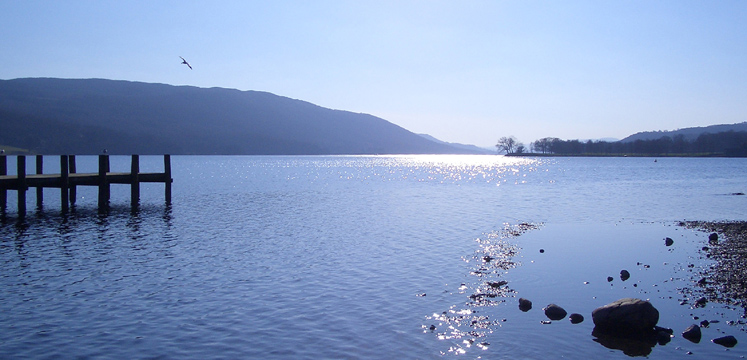 Coniston Water - explore and visit
Coniston Water and Coniston village
Coniston Water is about five miles long and half a mile wide. Above its western shore, the mountain of the Old Man of Coniston towers above the lake and the village.
The lake is about half a mile down from the village, where you can hire boats and bikes from Coniston Boating Centre. There are shops, pubs and places to eat in the village.
Boat tours and boat hire on Coniston Water
Have a great family day out on Coniston water. Book online now for motor boats, canoes, kayaks, paddleboards, bikes and more. Our friendly staff will help you make the most of your adventure, and the Bluebird cafe has a delicious range of food, drinks and ice creams.

You can also catch a boat tour, with the Coniston Launch and the Steam Yatch Gondola both launching from jetties here.

Visit Coniston Boating Centre
Our printable map of Coniston Water shows you where to park, where to hire boats, footpaths and cycle routes, where to catch a boat trip from, and of course where to hire your boats and bikes at Coniston Boating Centre.

Map and guide to Coniston Water
Attractions in Coniston
Brantwood overlooking the eastern shore, John Ruskin's home, is open to visitors with its beautiful gardens and views.
The Ruskin Museum in the village features an exhibition about Sir Donald Campbell, who was killed in 1967 making an attempt on the world speed record in his speedboat Bluebird.
Hawkshead
This pretty village's cobbled lanes are best explored by foot. There are many pubs, shops and cafes. You can see Wordsworth's schoolboy signature carved in a desk at Hawkshead Grammar School. The Beatrix Potter Gallery occupies rooms once used by the solicitor William Heelis, Potter's husband.
Esthwaite Water
This small lake, just two miles long, near Hawkshead is privately owned. However there is a footpath to the lake from the road just south of Hawkshead which follows the shore for a short time. There is also a small public access area by the lake shore just before Near Sawrey.
Walking routes near Coniston
Getting to Coniston
There are regular buses to Coniston from Ambleside and Hawkshead (service 505, Stagecoach) and from Ulverston and Barrow (Service X112, Blueworks Travel) For more details and links to timetables see Travel and TransportHoliday accommodation near Coniston
Hotels, guest houses and bed and breakfast near Coniston
Holiday cottages near Coniston
Search and book your accommodation near Coniston