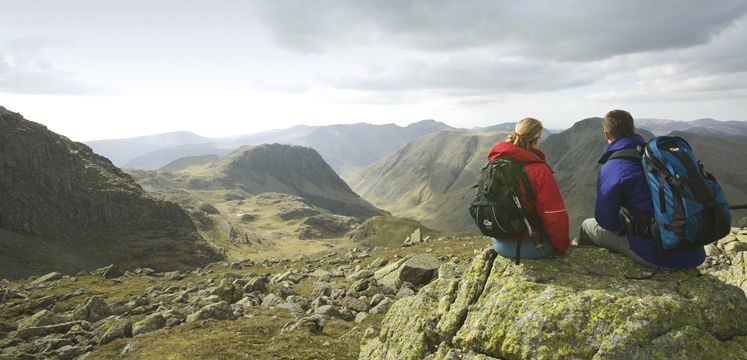 Facts and figures
Lake District National Park
The Lake District National Park is England's largest and covers 2292 square kilometres / 885 square miles
Width (west to east): 53 km / 33 miles
Width (north to south): 64 km / 40 miles
Highest mountains
Scafell Pike at 978 metres (3210 feet)
Scafell at 964 metres (3162 feet)
Helvellyn at 950 metres (3114 feet)
Skiddaw at 931 metres(3053 feet)
Great End at 910 metres (2986 feet)
Bowfell at 902 metres (2940 feet)
Lakes and coastline
Deepest lake is Wastwater at 74 metres (243 feet)
Longest lake is Windermere which is 10.5 miles long
There is only one official lake - Bassenthwaite Lake. All the others are 'meres' or 'waters'
The National Park includes 26 miles of coastline and estuaries
In the heavy rains of November 2009, Windermere lake rose 157cm. Over the week, that translates into an extra 35,700,000,000 litres were added, 22,100,000,000 over those 36 hours!
14 main lakes in order of size
Area is to the nearest hectare. A hectare is equivalent to 10,000 square metres
Windermere - 1459
Ullswater - 884
Derwentwater - 531
Bassenthwaite Lake - 518
Coniston Water - 475
Haweswater - 387
Thirlmere - 327
Ennerdale Water - 301
Wastwater - 283
Crummock Water - 258
Buttermere - 93
Grasmere - 61
Loweswater - 61
Rydal Water - 31
Total: 5669 hectares
Key dates
1810 William Wordsworth publishes "Guide to the Lakes"
1847 Kendal and Windermere railway reaches Windermere
1951 Lake District National Park established - read more in History of the National Park
Local population and housing
42,239 people live within the boundaries of the National Park. (Source: 1991 census)
Total dwellings: 22, 930
Owner occupied: 67.7 per cent
Rented: 32.3 per cent
Holiday or second homes: 15 per cent
(Source: Corporate Information Unit at Cumbria County Council)
Tourism
15.8 million visitors a year (Source: STEAM 2009: Cumbria Tourism)
23.1 million tourist days (Source: STEAM 2009: Cumbria Tourism)
Visitors spent £925.7 million (Source: STEAM 2009: Cumbria Tourism)
Visitors to the Lake District coming by private motor vehicle: 89 per cent
Find out more in Help with projects - Tourism
Weather
Mean temperature in Ambleside:
July - 14.9 degrees centigrade
January - 3.1 degrees centigrade
Annual rainfall:
in Ambleside: 2061mm
in Seathwaite, the wettest inhabited place in England: 3552mm
Useful links:
Cultural Heritage
14,650 archaeological sites and monuments recorded in the Historic Environment Record, including 275 scheduled ancient monuments
1760 listed buildings and structures
23 Conservation Areas covering historic towns and villages
Need more?
If you want more information on geology, tourism or other areas, you may find our Factsheets helpful.
The State of the Park Report includes statistics on farming, employement and tourism.
Or for local traditions and famous people check out Uniquely Lake District.